Image credit: Archify
Choosing your house colour schemes can be daunting. There are so many different options, and it's essential to get it right as the wrong colours can ruin your house's look.
Today, we will discuss some of the best house exterior colour schemes and interior colour schemes for your home and tips on picking the perfect shades for you. So whether you're just starting on your home-decorating journey or you're looking to switch things up a bit, read on for some helpful advice.
Related articles
Finalising your colour scheme
The first step in choosing house colour schemes is to decide what overall look you're going for. Do you want your home to look warm and inviting or cool and sleek? Once you've decided on the general atmosphere you're going for; you can start narrowing down your options.
If you want a warm and inviting home, you'll want to use colours that create that feeling. Reds, oranges, and yellows are all excellent choices for this type of atmosphere. You can also use a warm neutral colour palette like beige or brown.
If you're going for a relaxed and sleek look, you'll want to use colours that convey that feeling. Blues and greens are the most suitable options, as they can make a space feel calm and serene. You can also use white to create a clean and crisp look using a natural colour palette.
Once you've decided on the overall feeling you want to create, it's time to start picking specific interior paint colours. If you're not sure where to start, take a look at some house colour schemes online or in magazines for inspiration.
Creating flawless house colour schemes
Now that you've chosen the general feeling you want to create and some specific colours, it's time to start putting your house colour schemes together. We have mentioned some tips to help you create flawless wall colour combinations:
– Use a colour wheel to help you pick harmonious colours.
– Experiment with different shades of each colour to find the perfect one for your space.
– Use light and dark colours to create contrast and interest.
– Add in accent colours to add some pizzazz to your scheme.
Following these tips, you'll be well on your way to creating house colour schemes perfect for your home. Thus, get out there and start exploring all the different possibilities – you're sure to find the perfect colours for your space.
Testing the chosen house colour scheme
After finalising the colour selection for house, it is crucial to test it before finalising it. The best way to do this is by painting a large swatch of each colour on a piece of cardboard or paper and then moving them around until you find the perfect combination.
Or, you can buy some sample pots of Dulux paint colours and paint large swatches on your walls. This will help you see how the colours look in different lighting conditions and how they work with the other colours in your house. Once you're happy with your scheme, it's time to start painting.
The liberty to examine the exterior paint colours before you paint can save you a lot of time, money, and aggravation.
Whether you want to conduct the work yourself or employ a professional, the virtual tools will ensure that the results are appealing and shining regardless of how the task is completed.
Things to consider before you start painting
Lighting
The type of lighting in your house will significantly impact the way your colours look. Natural light is the best, so if you can, paint your home in a way that maximises this. If you're not sure how to do this, ask a professional for help.
Furniture and finishes
The furniture and finishes in your house will also affect how your colours look. If you have to finalise colour schemes for old Australian houses with a lot of dark wood furniture, then you'll want to use light colours to balance it out. And if you have a lot of white or chrome finishes, you can use darker shades to create some contrast.
Colour tones
When you're choosing house colour schemes, it's crucial to think about each colour's tones. For example, a light blue can have a warm or cool tone. And a dark green can have either a rich or muted tone.
Choosing the right tones for your space will help create the perfect atmosphere. Once you've considered all of these factors, you're ready to start making ideal house colour schemes for your home.
Don't limit your colour options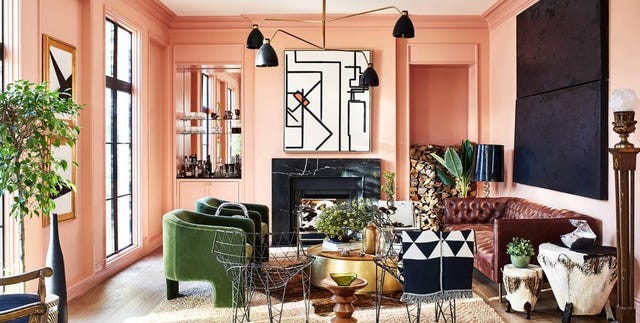 One final tip: don't limit your colour options. Just because a house is white doesn't mean it can't have colourful accents. And just because a place is dark doesn't mean it can't be filled with light and airy colours.
Feel free to be daring, but don't overdo it. So don't be afraid to experiment; you might be surprised at what you come up with.
Like what you're reading?
Keep yourself updated with valuable tips like these by downloading our app for the whole Soho experience. Not only are we aiding you to find your dream home, but we're also helping you save for it and decorate it! So don't forget to swipe on your property matches so we can get you there faster.