Whether you're moving into a new home or wanting to revamp your design philosophy, sometimes you need a bit of inspiration with the home decor. With many of us spending more days at home at the moment, it's no surprise that we're also putting more hours into redecorating. But not all of us know where to start.
So we've asked Melbourne-born Interior Designer Jenny Sun to give us the low-down on the ultimate home decor tips. With almost a decade in experience styling luxury homes, hotels and multi-level offices across Australia and Southeast Asia, she's seen just about every kind of space.
From lighting to wallpaper, these simple additions can give your home that wow factor you've been looking for. The cherry on top? They're all simple to do.
Related articles:
Lighting for home
This really sets the tone of the room and eventually, your entire home. It also eases the separation of different living areas and nooks, particularly in open-space designs like lofts.
When chatting to Jenny about lighting she goes,"ambient lighting is the key to a cosy home. Most fittings you see in multi-residential buildings are white lights which are functional and inexpensive, but they can be jarring and cold." This applies particularly to living and dining rooms. Ultimately, you want to feel invited into a room.
You should also pay attention to where the lighting is coming from. In areas like the kitchen, we usually have one large light source, but in other rooms, we should mix it up. Complementary lighting is the idea here, with a mixture of floor and table lights as well as decorative pendants.
This means about three different sources of light per room. Just be careful where you place or install them.
Lampshades are a simple way to give the room some ambiance. Try a funky pattern to dim the light coming through the shade. Coloured shades can warm up a room and give it a nice golden hue.
We're super fond of the architectural lighting at Euroluce, one of the most established local providers. They offer a range of lighting from ultra contemporary to industrial chic to old school style.
Rugs
"They are essential to grounding a space", says Jenny. And we see why. There's a lot of power in a rug and where you place it. It can either blend into the room's decor or be a statement piece; a feature setting.
What's great about rugs is that there is something for every style and every configuration of space. Whether it's a runner down a corridor, framing living room furniture or jazzing up an entrance, they can turn a ho-hum space into something profound and personalised. So where do we begin?
Rugs are as varied as lighting. From pile height to colour and pattern to material, there's a wealth of options for you to choose from. Take Jenny's advice and "layer rugs for that extra cosiness".
This sort of styling works best in a spacious room with not too much furniture, like the bedroom. You'll want simple walls and interiors to let the floor rugs work their magic.
If you're spending on anything it should be time. Take time to choose your design. Measure the spaces and see how the rugs would fit. Think about how you live in your home.
Do you have pets? Or children? If so, you might want to opt for a machine washable rug that you can throw in the laundry every so often.
Wall finishes
Here is where you can really add to a room and drastically change its feel. You can DIY to cut costs and get your hands dirty or hire professionals and just sit back and watch your room come to life.
Not sure about you, but when we browse Pinterest, it's easy to fall in love with those dramatic wall finishes in deep blues and dark reds. But the reality is that the photos are usually just a little depiction of the whole room and the real thing can sometimes look completely different when we attempt a little DIY at home.
So Jenny warns to be selective with the number of walls you choose to paint, especially with dark colours because "they tend to absorb all the light". And if you want to get creative with it, give the room a big impact by making a design or pattern on an accent wall.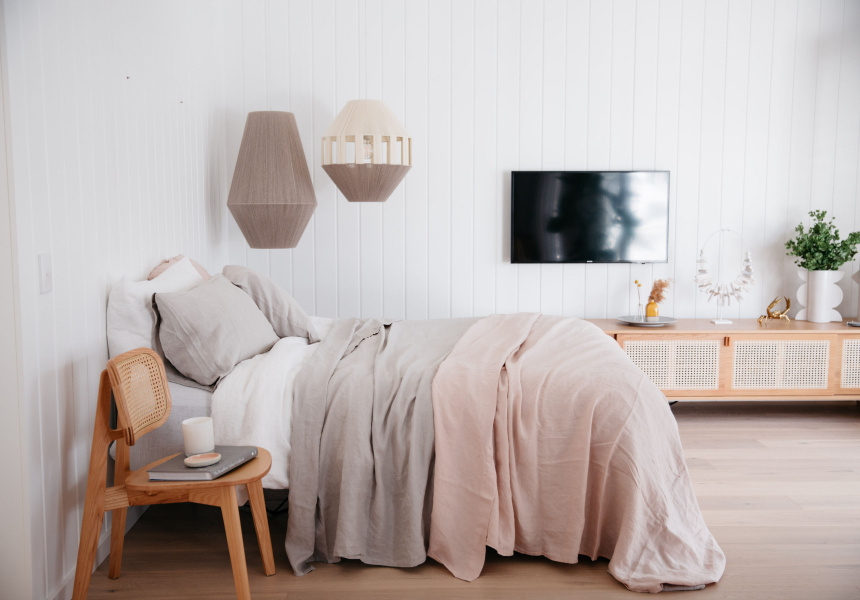 Wallpaper can come in handy here too with a plethora of affordable wallpaper options online. If you can do it yourself, even better. But do your research and equip yourself with the right tools to avoid warping and bubbling.
The selection process can be overwhelming, so Jenny recommends picking something that you won't get sick of looking at. Wallpaper dates easily and quickly, so best to steer away from anything bright or metallic.
Vintage bed linens
For a place that offers so much R&R, not many of us pay enough attention to our bedrooms. Over time, especially with demanding schedules, they have the tendency to become cluttered and forgotten. And because it's a part of the house we rarely entertain in, it doesn't get the same sprucing up as the living and dining room.
So what little low-maintenance cues can we take from Jenny? Invest in some good quality bed linens. They are often disregarded as vehicles for a good night's sleep because cheaper bedding is more accessible.
But in most cases, it eventually falls apart or starts piling. Look for chemical-free, sustainable, ultra-soft bedding like they offer at Carlotta + Gee. This local brand's linen is washed with Malaysian volcanic stone for that amazing finish that looks just as good as it feels.
And don't forget your pillows. Having just two of them for your head at night can make the bed look empty. So you can add a couple and enhance the looks with different hues, shapes and sizes.
And yes, styling mistakes are still possible. But don't let that deter you from mixing and matching. Some of the most aesthetically pleasing bedroom designs are a mixture of colours and patterns. Keep it simple with a handful of colour tones and patterns.
If changing out your bed linens doesn't appeal to you, one of Jenny's tips is to layer with a coloured bed throw or skirting. They add a finishing touch of tone and texture to give the space that little bit extra.
Art
This is usually where people invest a lot of time and money, but neither is necessarily vital. The thing is, art can be intimidating because it's extremely personal. It's a little bit of you displayed on a wall. It's something that's more rare and unique than a couch and it can be difficult to find a piece that resonates with you.
But it's truly where we should have the most fun. To streamline your interior design ideas and avoid any visual clashes, pick a theme. "That's my rule of thumb", says Jenny, "once you've picked a colour, you can really get into exploring the different types of media like photography, print and painting."
Experiment with different sizes as well. Jenny's trick is to always centre your art with one big piece, and build on it with smaller pieces. We're loving Jenny's own artwork using freehand and a simple black marker. Her pieces are intricate, detailed and really fascinating to look at! Browse more of her visually stunning art here.
Another great source to check out is The Print Emporium. They're an Australian company that has all kinds of gorgeous premium art and canvas prints. There's no way you can visit this site without falling in love with one their looks.
Plants
and more lived in. Many of us shy away from live greenery because it can seem too high-maintenance, but the truth is, many beautiful plants don't require much care.
"When it comes to greenery", Jenny advises, "the rule is to cluster in a group. This creates a sense of depth and volume." This means we're free to mix things up as long as they include different heights of short, medium and tall.
And when you're potting your plants, you can choose one or two feature pieces and let the others be simpler. Shops like Capra Designs have thoughtful and stylish pots and ceramics to get you started. Their blog is also great at offering advice for avid planters.
If you're wanting to add some dimension to your green areas, bring in a wooden stool or bench to elevate the pots. Hanging plants above other floor plants will really give off that jungle decor theme.
While we, at Soho, are getting you into your dream home, we're also thinking of other ways to make it yours. So keep following us for more interior design tips, or even organisational help!
Like our home decor tips?
Browse our search page to check out some amazing listings available right now. But don't just stop there, download our app to get the full Soho experience. Just remember to shortlist or swipe left on our listings so we can send you others that better match what you're looking for.