If the last few years have indicated anything, it's that Australia may have to start preparing itself for more natural disasters. So if you've been wondering, "is my home in a flood zone or high risk area", you're in the right place.
While Australia maintains a long history of natural disasters like storms, earthquakes, floods and bushfires, the last decade has been increasingly damaging.
In New South Wales, experts are especially concerned with coastal areas in the south like the Bass Coast which encompasses Wilsons Promontory, Philip Island, Venus Bay and Inverloch.
So much so that the local councils are requesting an "urgent" contribution of $12 million from state and federal governments. This shows that it's just as important for those who live there to prepare themselves and raise awareness about these dangers.
So we're here to answer some of your questions about natural disasters in Australia, how to check if your home is at risk and how to reduce insurance premiums.
How to check if your home is in a flood zone or high risk area
Fortunately, there are a few tools out there to check if you're living in a suburb or area that is a flood risk.
The Climate Risk Map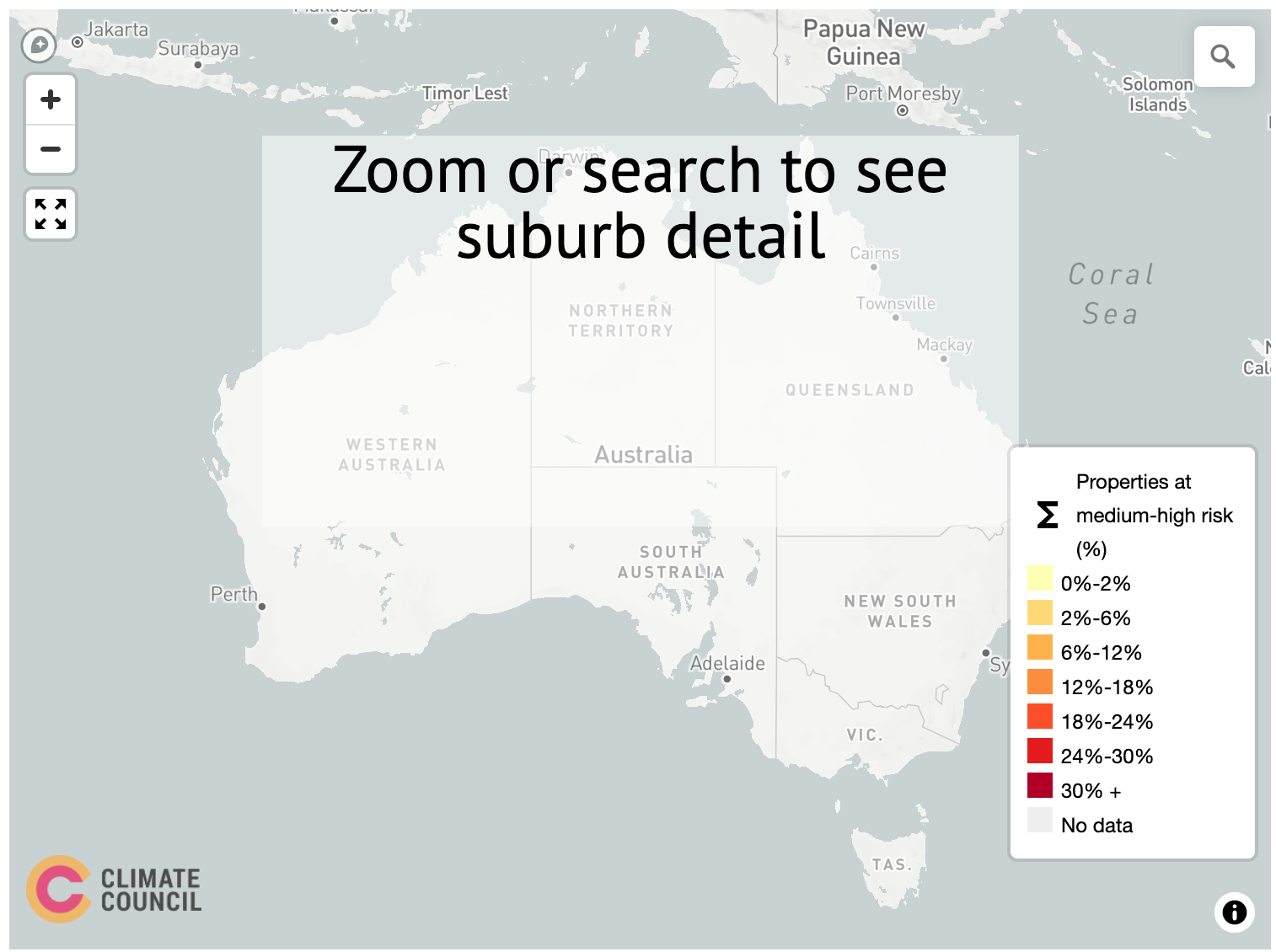 The Climate Risk Map is an interactive map which allows you to zoom into your suburb and see the percentage of properties in your suburb that are at risk.
You can adjust the settings to show low to high emissions scenarios, areas and hazards to see how the climate is impacting the homes in that suburb and if you live in high risk settings.
Climate Risk
Climate risk helps you generate free reports on the home you're in or one you're interested in moving into. This free site check gives offers a Climate Resilience Rating as well as insights into the home's risk at three key time intervals.
You can also invest in a Homeowner's Comprehensive Report for USD 75 which breaks down the vulnerability of all the elements in that home.
Floodcheck interactive map
The Queensland government site assists local councils with a floodcheck interactive map to help you determine if your home is in high risk settings.
It looks at historical data and shows you the sources of these floods.
Google Maps
Head over to Google Maps and geolocate your neighbourhood. If you're near bushland and waterways, you might want to contact local councils which can advise you on land that's prone to flooding or bush fires.
How is my home insurance impacted by climate risks?
Natural disasters take an exceptional toll on communities, potential loss of lives as well as on the economy. With the rise in occurrences comes the question about home insurance.
Naturally, if a home is a flood risk or climate risk, the insurance for it will be higher. Make sure to get quotes from multiple insurers before making a decision. That way, you're also gaining awareness on the risk of that area.
You can learn more about insurance costs and saving on your policy in Soho's guide.
To further minimise insurance claims, look around the home itself. Check that trees aren't hanging over your roof and at risk of damaging anything. Clean your gutters regularly and use flood-proof and fire-proof materials when building or renovating.
FAQs on natural disasters in Australia
To give you a little background knowledge on the risks of natural disasters in Australia, we've rounded up some FAQs.
What natural disasters occur in Australia?
Australia is a country of extremes. The most common natural disasters that occur in Australia are bushfires, heatwaves, droughts and floods, heavy storms and tropical cyclones, as well as earthquakes, landslides and tsunamis.
What is Australia's worst natural disaster?
Australia has undergone several disasters. While not discounting the consequences of other tragic events, a few of the most impactful disasters are:
Floods in Eastern Australia, 2022
Black Summer bushfires in NSW, VIC, SA and QLD, 2019/20
Hailstorms in Sydney, 1999
Earthquake in Newcastle, 1989
Tropical Cyclone Tracy, Darwin, 1974
Floods in Brisbane, 1974
Remember to use the floodcheck online map to understand risks in your area and on a regional scale.
What if my home is uninsurable?
Alongside trying to work with governing bodies to ensure communities are safe, these disaster management groups are also creating reports and predicting risks.
According to a report by the Climate Council, one in 25 Australian homes will be uninsurable by 2030. Whether you're preparing to move this year or in the next five, awareness is key in decision making. Which is why using the mapping reference guides to determine the risks associated with your neighbourhood is crucial.
As per the report, these will be the 10 most at-risk suburbs by 2030.
Nicholls, Victoria: 27% or 25,801 properties
Richmond, New South Wales: 20% or 22,274 properties
Maranoa, Queensland: 15% or 9,551 properties
Moncrieff, Queensland: 14% or 18,032 properties
Wright, Queensland: 14% or 12,140 properties
Brisbane, Queensland: 13% or 19,355 properties
Griffith, Queensland: 13% or 14,812 properties
Indi, Victoria: 11% or 11,215 properties
Page, New South Wales: 11% or 11,691 properties
Hindmarsh, South Australia: 11% or 10,775 properties
Need more info on checking flood zones or high risk properties?
Check any of the sites mentioned in the article or contact the local councils of the properties you're interested in.
If you're still on the lookout for a new home, browse our search page to check out some amazing listings available right now. But don't just stop there, download our app to get the full Soho experience.
Just remember to shortlist or swipe left on our listings so we can send you others that better match what you're looking for.